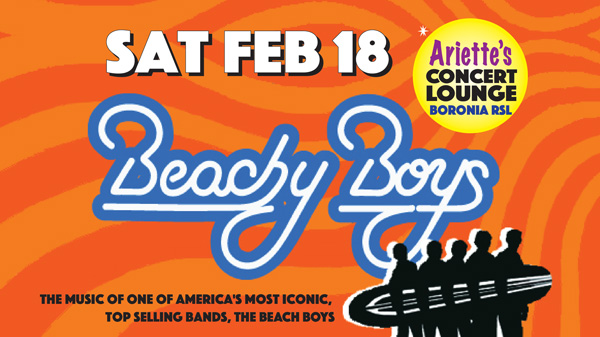 Description
The Beachy Boys showcase the music of five Californians who became one of America's No 1 top selling bands, The Beach Boys… with a huge catalogue of amazing hits including Kokomo, Surfin' USA, Good Vibrations, God Only Knows, I Get Around, Wouldn't It Be Nice, Barbara Ann, California Girls, Fun, Fun, Fun… and many more! Enjoy the sounds of summer with magical harmonies, Hawiian shirts and the sounds of vintage surf guitars! All bookings table seats, delicious meals, drinks at club prices.
Venue
Ariette's Concert Lounge - Boronia RSL
198 Dorset Rd
Boronia, VIC 3155
Contact Details:
Dave McFarlane - 0418 131 489
previous shows

Fri 18th NOV 2016 Surrey Hills Music Festival
157 Union Road, Surrey Hills VIC
Sat 19th MAR 2016 'Music On The Lawn' - Heidelberg Golf Club
Rosebud Country Club - 8 Main Road, Heidelberg VIC
Sat 28th FEB 2015 Rosebud

Rosebud Country Club - 207 Boneo Road, Rosebud VIC
Fri 30th MAY 2014 Club Kilsyth

Club Kilsyth - Corner Canterbury Road and Colchester Road, Bayswater North VIC

Fri 16th MAY 2014 Peninsula Health

MORNINGTON RACECOURSE - 320 Racecourse Road, Mornington VIC

Wed 18th DEC 2013 Jewish Care
619 St Kilda Road, Melbourne VIC

Fri 6th DEC 2013 Chifley Doveton
1 Doveton Avenue, Eummurring Dangenong VIC

SUN 24th MAR 4pm 2013 Warrandyte Festival - Riverbank Stage
Stiggants Reserve, Yarra Street Warrandyte, VIC

SAT 22nd FEB 2013 "Sunset At The Soundshell" - Outdoor Concert Series
Centenial Park Kalgoorlie, WA
SAT 26th JAN 2013 "A Day On The Fairway"
Broken Hill Golf And Country Club - Racecourse Road Broken Hill, NSW
SAT 8th DEC 2012 Albert Park Angling Club "Beachy Boys Xmas Bash"
5 Aquatic Drive, South Melbourne VIC
SAT 5th MAR 2011 Friends Of The Earth "SURFIN SAFARI"
Collingwood Town Hall, Collingwood VIC
19th Feb 2010 Thornbury Theatre
859 High Street, Thornbury VIC
31st Dec 2009 Maroondah Sports club

Corner Mount Dandenong & Dublin Roads, Ringwood East VIC

20th Nov 2009 Karingal Surf Party
The Arena - Geelong North VIC
29th Oct 2009 Ya Ya's
99 Smith Street, Collingwood VIC
15th Oct 2009 Mulgrave Country Club
Corner Wellington and Jells Roads, Wheelers Hill VIC

1st Aug 2009 St Kilda Bowling Club
66 Fitzroy Street St Kilda VIC
11 Apr 2009 Fox Hotel
351 Wellington Street, Collingwood VIC
28th Feb 2009 Central Club
293 Swan Street, Richmond VIC
19 Feb 2009 Neways Conference
Adelaide Convention Centre